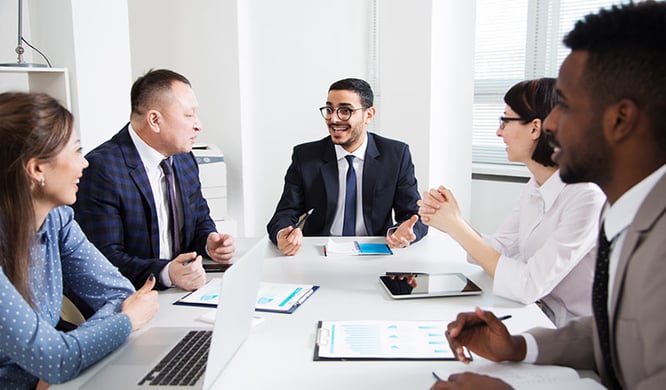 Your SaaS business is poised for rapid growth. As you scale, solid financials are the key to growing efficiently and maximizing valuation—but your finance department is already getting stretched thin. You'll need more resources, more expertise, and more insight to confidently manage stakeholders and fuel important decisions.
What SaaS finance and accounting hires should you prioritize? When should you bring in additional help? Is it too early for a CFO or Virtual CFO? Should you rely on outsourced finance and accounting services or hire strictly in-house?
Right-sizing a finance and accounting team can be particularly challenging for a SaaS company. Rapid growth often means hiring quickly to satisfy immediate needs, but a forward-thinking approach will pay major dividends. In this article, we'll break down the key roles and responsibilities for each growth stage, so you can put the right team in place today and expand it seamlessly.
Common SaaS Finance Roles for All Growth Stages
There are three primary finance & accounting (F&A) roles that every growing SaaS business needs: an accountant, a controller, and a CFO or Virtual CFO. The responsibilities and level of involvement will change for each position as a firm grows, but at a high level:
SaaS accountants manage expenses, revenue, payroll, and contribute to monthly closes.
SaaS controllers manage systems, processes, data analysis, reporting, internal controls, and oversee monthly/year end closes.
SaaS CFOs lead financial strategy, define KPIs, develop budgets, lead fundraising, manage stakeholders, and guide acquisition and exit process.
We'll explore these roles in detail as we examine the objectives of the 3 SaaS growth stages:
Stage 1: Achieve product/market fit
Stage 2: Build a repeatable, profitable sales process
Stage 3: Scale the business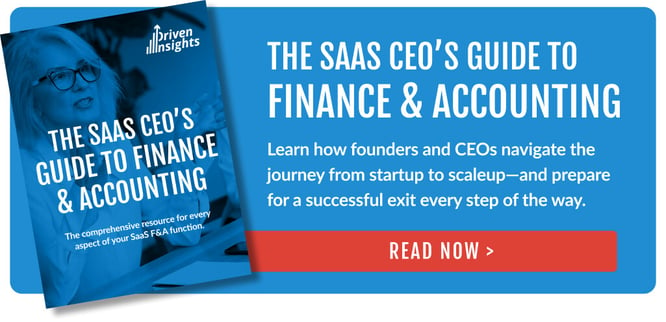 SaaS Finance Team for Growth Stage 1: Product/Market Fit
A SaaS business begins this first stage with a minimum viable product (MVP), looking to acquire its first few paying customers, build initial momentum, and iterate on the solution. With little sales activity, the finance and accounting function is minimal. However, growth pressures will increase as the company gets closer to product/market fit—a state of consistent demand that demonstrates the need for a dedicated sales team. This growing demand will translate into expanded finance and accounting needs, as well. Roles to consider at this stage include:
Fractional Accountant
A fractional and virtual accountant will provide a cost-effective way to track and manage basic accounting activity at this early stage. This will include expense management and cost control, together with order-to-cash process management. Your accountant will also handle payroll and prepare a monthly close.
Fractional Controller
At this stage, fractional and virtual controllers are most valuable for setting up systems and processes. This will include an accounting system designed for recurring revenue and subscription billing management. They will also establish internal controls, overseeing F&A processes and the monthly close.
Fractional & Virtual CFO
While it may be too early for a full-time CFO, a right-sized engagement with a fractional, seasoned SaaS Virtual CFO will ensure your SaaS business has a strategic financial plan from the start. They will define and develop SaaS KPIs to track progress toward product/market fit and fuel data-driven decisions. A fractional and Virtual CFO can also lead early fundraising efforts and develop sound budgets to guide the deployment of capital.
SaaS Finance Team for Growth Stage 2: A Repeatable, Profitable, Scalable Sales Process
Once you have achieved product/market fit, you'll need to prepare for increased sales volume by expanding your sales team. At this stage, it is critical to establish a repeatable sales process that a growing team can execute consistently. As your SaaS company readies itself to scale, the primary goal is to prove that it can do so efficiently and profitably. To do this, you'll rely on the same finance and accounting roles, but their responsibilities will evolve:
Fractional & virtual Accountant
Fractional and Virtual Accountant responsibilities at this stage are similar to those during product/market fit. As sales and revenue increase, however, you may require additional accounting support with individuals focused on either revenue management or accounts payable.
Fractional & virtual Controller
As your SaaS business begins to grow, a Virtual Controller will need to expand your accounting systems and processes for more complex revenues and expenses. They will introduce tighter controls and processes, particularly around GAAP compliance, such as ASC 606 revenue recognition, and sales tax liability management. Financial oversight is key, as you'll begin to have greater scrutiny of your monthly reporting package.
Fractional & Virtual CFO
Your Virtual CFO will evolve your KPIs and budget, with a particular focus on sales efficiency metrics like net new ARR, CAC, LTV, and churn. Strategically, modeling out future scenarios and cash flow helps to build a sustainable business. Investors and stakeholders will require more sophisticated management, particularly as part of your Series A and Series B capital raises.



SaaS Finance Team for Growth Stage 3: Scaling the Business
This is the final SaaS growth stage leading to a successful exit. In this phase, you're typically raising more capital, deploying it, and scaling fast. You're hiring and training sales reps as quickly as possible, investing heavily in marketing, and relying on your finance and accounting team to provide a constant feedback loop with accurate and timely data. Rapid expansion may ultimately call for bolstering your fractional F&A roles to become full-time, dedicated resources (which can remain outsourced):
Fractional & VIrtual to Full-Time Accounting Team
As you get deep into this stage, you will either add additional fractional and virtual resources or dedicate at least some full-time accounting team members. Some opt to bring accounting in-house at this stage, but the right outsourced partner can scale with you through this phase. Either way, their responsibilities won't change that much, but the team will be much busier.
Fractional& Virtual to Full-Time Controller
Your controller will continue to scale your systems at this stage. GAAP and sales tax monitoring will become even more important (as audits are likely). And, if you engage in any M&A activities, your controller will lead accounting systems integration. Your controller will also help to determine the need for enterprise-level software for subscription billing management. Your controller may hire an Accounting Manager at this stage to share some of the management burden.
Fractional & Virtual to Full-Time CFO
Virtual SaaS CFO duties at this stage include evolving the right mix of KPIs (with a focus on unit economics), coaching department heads, and monitoring key value drivers. As the scope of responsibilities increases, it will be time to consider a full-time CFO vs a Fractional & Virtual CFO. A dedicated finance leader will be better suited for heavy involvement in acquisition, M&A, or exit opportunities—whether performing due diligence or preparing the SaaS firm itself for a sale.
Here, your CFO will be managing complex stakeholder relationships that may include the board, banks, buyers, and investors. As you scale, your CFO is likely to need more support, so this is also a good time to bring in a Manager or Director of Finance under him/her.
In-House vs Outsourced: Building a SaaS Finance & Accounting Team
Building a SaaS finance and accounting team poses many questions. Two of the most important ones to answer in the early going are:
Which F&A roles are most important today?
How will you fill various roles as you grow?


The simple answer to both is that you'll need to hire on an as-needed basis in order to build out your F&A function in a cost-effective way. But, filling the right roles with the right candidates at the right time, is easier said than done. If you're building an in-house team, you'll also need to establish the right systems, identify the right technology, define the right KPIs, and more.
The alternative is to leverage the experience of an outsourced Virtual CFO service with a team-based approach. A partner with high-level finance leadership and a deep bench of expertise will ensure your F&A function has everything it needs and nothing it doesn't—by matching on-demand SaaS finance and accounting services to your budget.
With a fractional and Virtual CFO, even early-stage startups will have a solid financial roadmap from the beginning. And, when you're ready to expand, scale, or transition to a full-time, in-house team … the process will always be seamless.
A Scalable Solution for SaaS Accounting and Finance
If your SaaS business is like most, the primary goal is exponential growth. Your finance and accounting team will play a critical role at every stage, but will also need to evolve significantly along the way. A scalable solution to hiring, technology, oversight, systems, and processes is essential.
With an outsourced Virtual CFO service for SaaS companies, firms at every stage of growth can harness the expertise of high-level financial leadership and a complete finance and accounting team that scales effortlessly, to and through your ultimate exit.
Learn more by scheduling an introduction to Driven Insights today. You'll receive a free proposal and discover a cost-effective way to have all the finance and accounting resources your SaaS business deserves, today and as you grow.