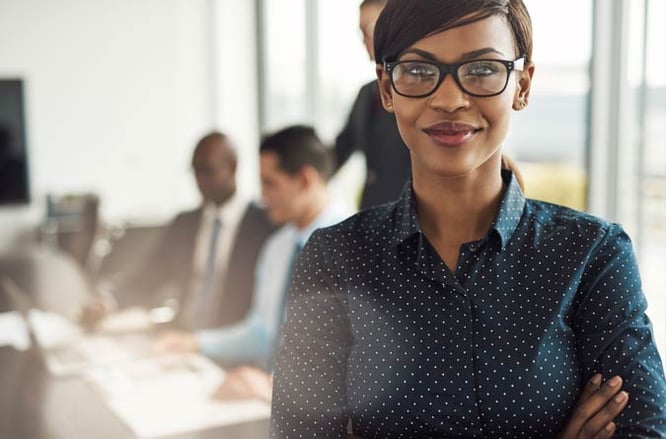 As your SaaS business grows, your finance and accounting capabilities are being stretched thin. Frequent errors, omissions, and inconsistencies point to the need for more experienced SaaS financial leadership, and that means adding or replacing a CFO. You have a couple of options—you can hire a full-time, in-house CFO or address your needs with the flexibility of an outsourced CFO service.
Deciding between them can be challenging. Should an early stage SaaS firm with limited resources hire a full-time CFO? Can a fractional CFO provide the level of attention your business needs? How will you fill other finance and accounting roles as you continue to grow?
In this article, we'll explore these questions and more, so you can accelerate growth by making the right investment in your SaaS finance and accounting function.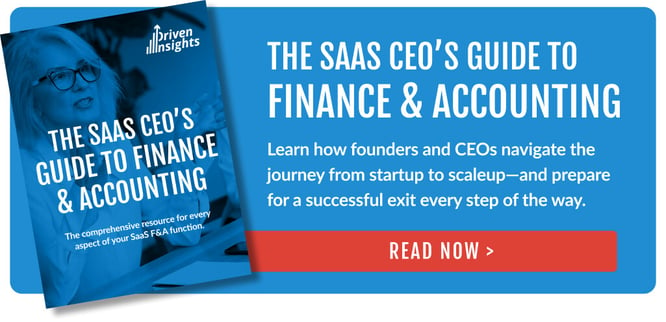 What are the duties of a SaaS CFO?
Before we compare in-house and outsourced SaaS CFOs, let's zoom out a bit. SaaS firms have different accounting practices, financial metrics and growth stages than other business types. It's helpful to understand the unique nature of SaaS CFO duties, so you can hire accordingly.
GAAP compliance
Generally Accepted Accounting Principles (GAAP) are a common set of accounting standards, procedures, and protocols that are defined by the Financial Accounting Standards Board. All public companies in the US must follow GAAP when preparing financial statements.
Most institutional investors, many banks and almost all acquirors will also require GAAP financials from private SaaS firms before investing or extending a loan. But, GAAP compliance doesn't stop with your books. GAAP budgets or projections will also be a requirement. For all of these reasons, SaaS CFOs are responsible for establishing and maintaining solid GAAP compliant practices well in advance of investment or exit opportunities.
Accrual accounting and revenue recognition
Central to managing GAAP-compliant books is accrual accounting—and revenue recognition is at the heart of accrual accounting for SaaS firms. SaaS CFOs must be well-versed in ASC 606, the 5-step revenue recognition standard for businesses entering into contracts to transfer goods or services to customers. Errors in revenue recognition can quickly lead to a reduction in valuation due to a lack of confidence in your accounting practices.
Sales tax
Sales tax is another point of speciality for SaaS businesses. Your CFO must have a firm grasp of sales tax requirements for subscription businesses as they'll need to stay on top of sales tax nexus in all served states, have strategies and processes to manage sales tax liabilities, and maintain compliance with complex state sales tax requirements.
Subscription billing management
SaaS CFOs must be experienced with the nuances of subscription billing models. They'll need to accurately and consistently account for and report on complex transactions that include varying contract terms, subscription periods, bundled services, support, and other variables.
Subscription billing software will play a big role, and a SaaS CFO must guide the selection of all tools in the company's technology stack, as it will provide the data that fuels informed decision making.
It is also a SaaS CFO's responsibility to define the KPIs each department owns, to ensure management understands how to measure and report on all relevant SaaS metrics, and to align the organization around data-driven goals.
Navigating each stage of SaaS growth
A CFO's duties will change as your SaaS business grows. Look for a CFO that can demonstrate strong leadership and expertise through each of the key growth stages:


Stage one: Product/market fit
Stage two: Building a profitable and repeatable sales process
Stage three: Scaling your SaaS business


Explore this topic in detail in our related article: Essential SaaS CFO Duties for Each Stage of Growth.
Common duties shared by SaaS and non-SaaS CFOs
There are several CFO duties that are common among both SaaS and non-SaaS businesses. These include strategic planning, business model development, fundraising and investor management, board and stakeholder management, and overseeing finance and accounting. However, it's important to recognize there are many SaaS-specific nuances that a seasoned SaaS CFO will naturally embrace as part of performing each of these duties.
How do outsourced CFOs work?
An outsourced CFO is an external partner who delivers high-level financial leadership on a fractional basis. The best outsourced CFO services will have a team-based approach, owning your entire finance and accounting function to prevent any gaps or inconsistencies. An outsourced CFO service with SaaS expertise will cater to your needs in several ways, with key responsibilities that include:
Strengthening and vetting your SaaS business model and pricing strategy.
Driving strategic planning and enabling informed, data-driven decision making at each growth stage.
Developing budgets, leading projections and scenario modeling.
Providing a sounding board for C-level executives, department heads, and senior managers.
Defining departmental and organizational SaaS metrics for consistent alignment.
Understanding unit economics and how they support your journey to a profitable, investment-worthy SaaS business.
Developing fundraising strategies for SaaS capital at each growth stage.
Attracting SaaS investors through crafting and communicating your story and financial roadmap.
Navigating pricing and terms for product launches and new market entries.
Managing and nurturing stakeholders across your leadership team, board, bank, and investors.
Leading and supporting acquisition and exit opportunities.
Working with a CPA on tax strategies and ensuring sales tax liability is being managed.
Outsourced CFO services can have a variety of names, including part-time CFO services, fractional CFO services, interim CFO services, contract CFO services, CFO professional services, CFO consulting services, CFO advisory services, and virtual CFO services.
Advantages of an outsourced CFO service for SaaS companies
For some SaaS businesses, hiring a full-time CFO is the right choice. While there's not a magic ARR number, if you've grown to $25 million annual recurring revenue and already have outsourced accounting, chances are you're already receiving some level of CFO guidance and the right outsourced CFO service provider should be able to layer in additional resources required to get you to the next stage. If you've grown to $50 million ARR or more, a permanent position may make sense.
In most other circumstances, an outsourced CFO service is hard to beat. Whether you're in the market for a full-time, dedicated CFO or experienced financial leadership on a fractional basis, an outsourced service will customize a solution to fit your needs. Yes, that's right, some outsourced CFO service providers can dedicate a CFO to your business, one who has been trained to work alongside the rest of the finance & accounting team they've dedicated to your business. Those with a team-led approach will assume all finance and accounting responsibilities, providing accuracy, efficiency, and a fully-integrated resource that scales seamlessly as you grow.
More budget for growth drivers
One of the main benefits of an outsourced, on-demand service is that you'll only pay for what you need or use. A leveraged CFO model drives many routine tasks to lower-cost resources, resulting in significant cost savings. This means a more flexible budget, so you can dedicate more of your capital to hiring salespeople and other activities that will fuel growth.
More than just a CFO, a team of experts
The best outsourced CFO providers have a deep bench of expertise. Their teams provide combined skills and robust support across SaaS finance and accounting, so there are no gaps. They'll also have industry experience with a proven record of helping SaaS business reach their goals.
A fully-integrated solution
A fully-integrated CFO service takes end-to-end ownership of your finance and accounting functions with a team-led approach. With CFO-level leadership and expert resources in every role, it's the most cost-effective way to have it all.
An integrated team will work toward one set of goals: yours. That means one primary point of contact without any friction or competing agendas, strong adherence to accounting and finance fundamentals, and deliverables always aligned with stakeholder expectations.
On-demand services tailored to each growth stage
Outsourced CFO services are flexible. Scale up the level of engagement when you have the need such as in support of a capital raise or acquisition. Scale down when preserving cash is a priority. The right team can partner with you during any stage, from product/market fit through to a successful exit.
Not all outsourced CFO services are the same
When you're growing a SaaS business, an outsourced CFO with a deep understanding of the industry can make all the difference. Whether you're getting the fundamentals in place, seeking private equity or venture capital, or scaling up—an experienced partner is an invaluable resource.
Keep these things top of mind in your search for the best outsourced CFO service:
First, you need a CFO service with expertise across SaaS accounting and finance duties.
Second, an outsourced CFO service with a team-led approach and a proven track record with SaaS firms will provide the most value at every stage of growth.
Lastly, be certain to carefully vet outsourced bookkeeping firms that promote "CFO service" add-ons. You'll want to understand the true depth of their CFO offerings, particularly with SaaS companies.
Choosing the right CFO partner is a critical decision. Schedule an introduction to Driven Insights today, get a free, custom proposal, and find out how outsourced CFO services can be tailored to your needs to accelerate growth and maximize valuation.