OUTSOURCE YOUR ENTIRE FINANCE DEPARTMENT WITH CFO EXPERTISE AT THE HELM
An integrated finance solution that puts the people and processes in place to help you build meaningful enterprise value.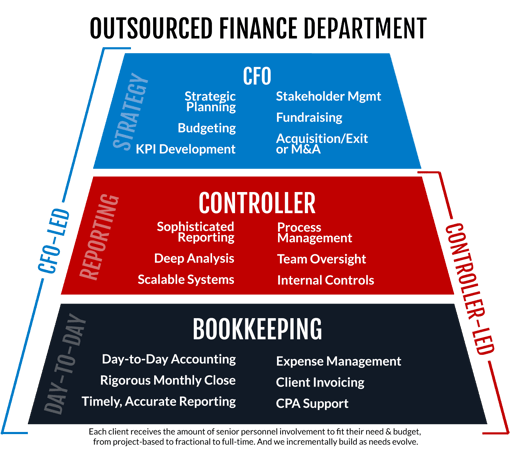 As your business grows, you need to be able to fluidly scale your financial function to meet the expectations you've set with stakeholders. You have to have the right people, processes, and technology in place to deliver growth-enabling insights.
Building a team in-house can cost a fortune and come with a huge learning curve for everyone involved.
But it doesn't have to be that way.
By outsourcing your entire finance team to Driven Insights, you can hit the ground at full throttle and lean on us to scale as you grow.
With outsourced CFO services from Driven Insights, you'll get everything you need, from Bookkeeping, to Controller-level ownership, to CFO-level strategy. We have the seasoned team and well-oiled machine in place to deliver results right out of the gate.
We work exclusively with growing organization so we're accustomed to evolving our services to stay a step ahead of your needs. Whether it's cost-effectively pulling a CFO into your controller-led engagement on a fractional basis, enhancing the level of analysis to embrace increasing complexity or stepping up the degree of CFO involvement in a CFO-led relationship to bolster strategic financial leadership as you enter a new phase of growth, we anticipate and evolve ahead of your requirements.
See Our Full Range of Services