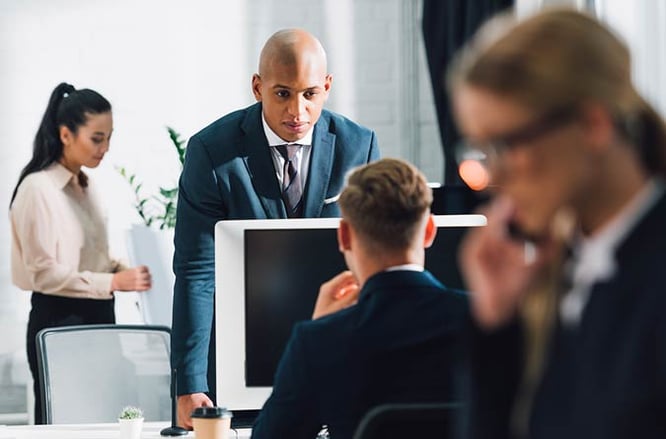 As your SaaS firm evolves from an early stage startup and reaches key milestones, your finance and accounting inevitably need to change. Leveling up to a new stage of SaaS growth can be the right time to assess those needs – whether you've just achieved product-market fit, have established a repeatable sales process, or have begun to scale your sales engine.
The decision to bring in additional SaaS finance and accounting (F&A) expertise, raises one big question: What kind of expertise do we need?
When it comes to SaaS accounting and finance, three key roles, with increasing levels of seniority, are: SaaS accountants, SaaS controllers, and SaaS CFOs. Determining which is best for your business at any point in time can be tricky. However, choosing just one may not be the only option.
In this article, we'll detail the roles of accountants, controllers, and CFOs for SaaS companies, as well as how to determine your needs. Most importantly, we'll share the strategy high-growth SaaS firms are adopting to ensure they never have gaps in their F&A function again.
But first, let's explore the issues, triggers, and milestones that prompt the need to expand your SaaS finance and accounting capabilities.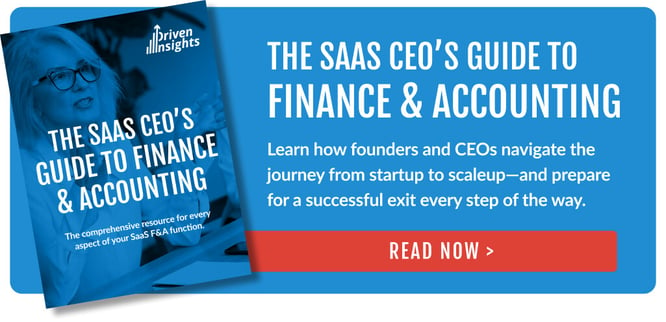 Warning signs that your SaaS firm is outgrowing its current accounting capabilities:
SaaS Finance and Accounting Reporting & KPIs
When your team and tools are providing data, but it's not resulting in confident decisions, several issues may point to the need for additional F&A expertise:
You're spending too much time reviewing and correcting financials each month, and they still aren't accurate.
Your monthly close process produces reports a little later each month.
You don't know which SaaS metrics are most important for your current growth stage.
There are inconsistencies in how you're measuring and interpreting KPIs.
Your KPIs are established at the board level, but not at the departmental level.
You're unable to segment your SaaS metrics to gain more detailed insights into issues or opportunities (example: churn cohort analysis).
You lack the financial modeling required to plan out future scenarios.
Stakeholder Management
Solid financials inspire confidence among internal and external stakeholders. Signs you're on shaky ground may include the following:
Internal and external stakeholders are asking financial questions that you can't answer. (What is your most profitable product line? What was your net new ARR last month? Can you explain these accounting errors/inconsistencies and ensure they don't resurface?)
You're not confident about presenting to stakeholders how you'll turn the latest KPIs into decisive actions.
You need growth capital, but also need help navigating your options and crafting your SaaS firm's financial story.
SaaS Compliance and Audit
If you recognize any of these issues, it could be time to level up:
Your audit comes back with material findings.
You're told your financials don't meet GAAP standards.
Your budget also needs to be GAAP.
You can't be certain your revenue recognition practices are compliant with ASC 606.
When are SaaS companies ready for more finance and accounting expertise?
While growing pains and solving problems are a natural part of building a successful SaaS business, there are specific triggers that can surface the need for expanded accounting and finance capabilities.
You might be raising capital and need to understand your options, get your financials in order, and create a compelling investment story. Deploying a successful raise means you'll have a new board, bank, or investor team to loop in.
The pace of growth is accelerating and, with it, your burn rate. You've made the right decisions and grown to a few million in ARR, but now the stakes are higher—putting additional pressure on making the right financial decisions. You're not sure which growth initiative to pursue next and what's going to have the greatest impact on valuation.
At the same time, your tax and compliance needs are becoming increasingly complex. You need robust GAAP accounting, and you may now have sales tax nexus in multiple states. You might not have the on-hand expertise, tools, or processes to understand and mitigate your finance and accounting risks.
Triggers like these may signal the need for greater F&A expertise, but which is the right resource—a SaaS accountant, controller, or CFO?
When is a SaaS accountant the right solution?
Although a traditional accountant can stumble through the basics in the early days, an experienced SaaS accountant will help you meet the unique challenges and needs of a SaaS business. SaaS accountants differ in several ways. They will:
Understand ASC 606 revenue recognition practices.
Prepare SaaS GAAP financials that are appropriate for a subscription business.
Read and record client contracts and capture accurate financials.
Have familiarity with subscription billing tools.
Provide a nuanced understanding of renewal, churn, and expansions and contractions of revenue.
Early stage SaaS companies are typically focused on product-market fit, with the founder overseeing the accounting team. Through this stage and beyond, SaaS accountants will handle the majority of day-to-day duties. However, when it comes to monthly or quarterly closes, companies will benefit from a SaaS controller to provide oversight and verification. A SaaS controller or CFO should also guide the setup of systems and best practices.
What will a SaaS controller bring to the business?
A SaaS controller will carry out additional accounting duties and provide greater oversight, rigor, and experience. The areas where a SaaS controller will bring value include:
Supervising your SaaS accounting/bookkeeping team as it grows.
Verifying the accuracy of financial reports.
Reviewing and correcting period close processes.
Overseeing internal controls to prevent errors, fraud, and security breaches.
Ensuring GAAP compliance, including ASC 606.
Supporting your CPA at tax and audit time.
Owning the end-to-end accounting process.
Accounting for international subscriptions purchased with foreign currencies.
Consolidating reporting across multiple entities.
Introducing automation to enhance F&A efficiency and cut down on manual work and errors.
Implementing scalable accounting systems and technology.
How can a SaaS CFO transform my business?
SaaS CFO duties really come into their own as you're building out your wider financial functions. They will add the most value at a strategic level—thinking longer term, leading fundraising efforts, managing stakeholders, and aligning the business.
Key CFO duties include:
Driving the overall financial strategy and direction for the business.
Supervising your finance and accounting team and providing detailed insight, experience, and feedback.
Developing SaaS KPIs and dashboards, and ensuring alignment on KPIs throughout the business.
Developing a capitalization strategy and navigating the fundraising process.
Using their familiarity with equity sources, venture debt, and other sources of capital to create investment strategies that minimize dilution of ownership.
Coaching the executive team on their respective department's P&L report and KPIs.
Leading stakeholder report generation and leveraging stakeholders to build incremental value.
Managing the board, investors and lenders at every stage of growth.
Leading a three-statement, GAAP-compliant budgeting process.
What's the Best Hiring Strategy for a SaaS accountant, controller, or CFO?
Once you've identified the need to step up your F&A capabilities, there are several new questions that arise. Should you hire full-time or part-time? Should you build an in-house finance team or outsource? How will this decision affect future hiring needs?
For a growing number of SaaS companies, the best option is one that doesn't force them to choose between a single hire and the full scope of resources they need.
An outsourced SaaS CFO service is a flexible, cost-effective way to expand your F&A capabilities with a right-sized solution. A team-led approach means you'll have a deep bench of expertise that includes SaaS accountants, controllers, and CFO-level support.
For firms looking to accelerate growth, a fractional service provides a much faster ramp, compared to hiring in-house, as well as a seamless transition when more involvement is needed at each stage of growth.
Choosing the right SaaS accounting and finance team is a critical decision. Schedule an introduction to Driven Insights today, get a free, custom proposal, and learn how outsourced CFO- and controller-led services offer a complete solution for growing SaaS companies like yours.