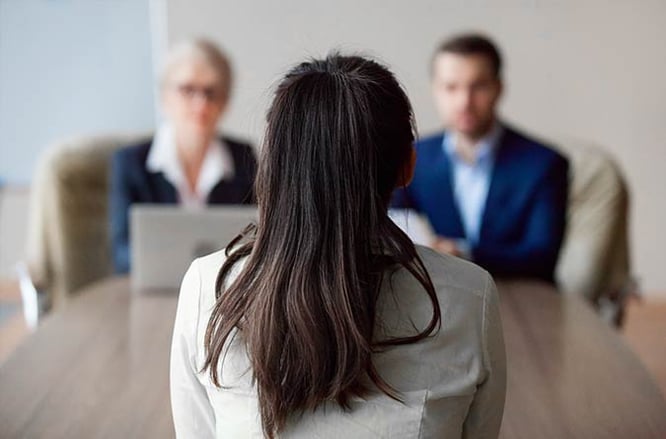 Your SaaS firm is growing, and it's time to hire a new CFO or to explore outsourced CFO services. In both cases, generic CFO interview questions just won't cut it. To find financial leadership that's as unique as your SaaS business, you'll need to ask targeted questions across four vital areas: Accounting, Finance, Fundraising, and Leadership.
Deciding to hire a SaaS CFO is a major step for your business. Whether you're getting out of the scrappy "everyone does everything" startup mode or you've had a cash injection, a SaaS CFO shows you're ready for the next step. The right individual or outsourced CFO service will drive your growth, lock down your financials and departmental KPIs, and prepare you for an eventual exit.
But, before that can happen, you need the perfect candidate or the best fractional CFO service you can find. That means interviews. And SaaS CFO interview questions. If you've not hired for a CFO position before, that can be daunting. If you've mis-hired before, it can be even scarier.
We've got you covered.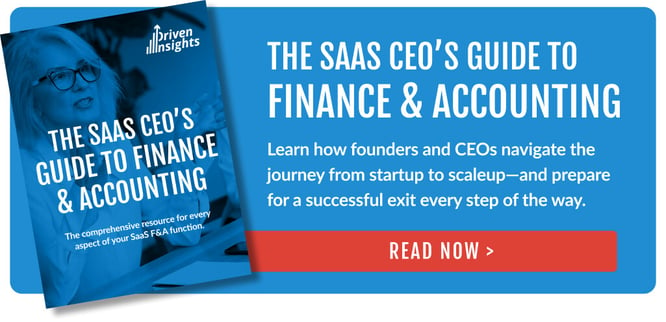 Four Areas for Focusing SaaS CFO Interview Questions: Accounting, Finance, Navigating M&A and Capital Raises, and Leadership
We know SaaS CFOs inside out. That's why we know successful SaaS CFOs have broad expertise across four major areas:
SaaS Accounting: Financial reporting, internal controls, compliance, systems.
SaaS Finance: KPIs and metrics, value drivers, reporting, budgeting.
SaaS Capital Raises and M&A: Raising and managing debt, selling equity, acquisitions, exits.
SaaS Leadership: Business and KPI alignment, strategic planning, executive leadership, problem-solving, growth stewardship.
Let's dig in.
1. CFO Interview Questions for SaaS Accounting
SaaS accounting interview questions are the foundations on which you build the rest of your CFO questions. These basics explore key accounting practices and compliance areas. In particular, you'll want to know how the candidate will handle areas like tax liability, sales tax nexuses, auditing requirements and processes, controls, and a technology stack that pulls it all together.
SaaS Accounting CFO Interview Questions
Have you always maintained 100% compliant

Generally Accepted Accounting Principles

(GAAP) financials, if not, where have you compromised and why?
What is a commonly overlooked internal control and what practices would you put in place to manage it?
What would your strategy be for managing sales tax liability and monitoring sales tax nexus for our business?
Have you managed a business through an audit before, what were the findings, and what changes did you make to your practices to prevent a recurrence?
Do you recommend specific accounting software for a firm of our size and specialization, and why?
What to Look For in CFO Answers for SaaS Accounting
Very strong knowledge of GAAP, regulations, and compliance.
Demonstration of where deviating from GAAP makes sense because an alternate approach can better inform some financial decisions.
Care toward internal controls, awareness of common pitfalls and practical approaches to management and oversight thereof.
Managing sales tax liability including a robust, well-thought-out strategy for dealing with sales taxes and nexuses with no material findings.
A track record of managing CPA firms, software solutions and other resources for ongoing management.
Leading a business through year-end audits.
Has experience with a range of solutions and displays an appreciation for the business context when recommending a solution, balancing level of sophistication of outputs, scalability and required investment.
2. CFO Interview Questions for SaaS Finance
SaaS finance interview questions get into the growth indicators and engine for your business. These questions drill into KPIs, value drivers, and budgets. You'll want to see how the candidate understands and would calculate your major metrics and how they report and leverage information. You will want to confirm that their approach to capitalizing your business aligns with yours and that they're highly effective at using a budget to align a team behind the financial roadmap.
SaaS Finance CFO Interview Questions
What do you consider to be the biggest value drivers for our business and why are they so important?
What are the top, high-level KPIs and growth indicators that show our performance, success, and financial health?
Can you provide an example of one individual KPI aligning with, cascading down to, and driving departmental strategies and operations?
Pick one of the following KPIs and tell me different ways it can be calculated, and the merit for each method: CAC, LTV, Churn?
What financial reporting tools have you had the most success with and why? Were there any drawbacks or gaps in reporting?
How would you use budgeting as a way to align a team or hold them accountable?
Walk me through a previous budget model that you've successfully used (confidential, info redacted). How did it help you navigate a specific challenge?
What experience do you have managing a capitalization table, and what approaches made that process easier?
What to Look For in CFO Answers for SaaS Finance
High-quality insight into value drivers and how important each one is to your SaaS business model.
Comprehensive understanding of major SaaS KPIs and their relationship to your value drivers.
Belief that KPIs are not "one-size-fits-all," but that they need to be contextualized and interpreted so they make sense for functions and departments across the business at all stages of growth.
Understanding of SaaS KPI calculations, together with some flexibility to refine KPIs so they truly reflect business operations, issues, and growth.
Budget-led thinking as a key tool to control and emphasize priorities in the business and aligning the team behind common, quantifiable goals.
Track record of managing a cap table through several capital raises as well as ongoing employee equity incentives. Experience using cap table software is a bonus.
3. CFO Interview Questions for SaaS Capital Raises, Mergers & Acquisitions
Almost every SaaS business management team requires investment to fuel their growth and enable an exceptional exit. These interview questions explore how your CFO can lead fundraising (debt and equity), provide answers, and prepare for further investment rounds and an eventual merger, acquisition, or exit.
SaaS Capital Raise CFO Interview Questions
How have you raised debt in the past and who have you raised it from?
What were your main challenges in raising debt and how did you resolve them?
Have you experienced any issues with managing and repaying debt?
What do you think the best debt sources would be for our business?
How have you raised equity in the past, and who did you raise from?
What were your main challenges in raising equity and how did you overcome them?
What would be your strategy for raising equity and gaining investment for our business?
What approaches have you used to make a case for a higher company valuation that might be relevant to our case?
Have you been involved in acquisitions and exits previously?
If so, what was your role and what were the outcomes and economics?
What are the biggest challenges with tuck-in acquisitions? Exits?
What to Look For in CFO Answers for SaaS Capital Raises
Strong strategic approach to

sourcing and managing debt

.
Proven ability to handle the inevitable challenges of raising, managing, and repaying debt.
Established relationships with debt providers with an appreciation for the fit.
Deep insight into company valuations and developing sensible equity options.
Track record of equity investment from reputable PE or VC firms.
Demonstration of previous business exits with above-market valuations, outcomes, and returns.
4. CFO Interview Questions for SaaS Leadership
Finally, you need to ensure that a SaaS CFO can interpret what matters, drive decisions, and align stakeholders. These interview questions explore how a CFO will function as part of your executive team and turn your financial management into a competitive advantage.
SaaS Leadership CFO Interview Questions
What's the most powerful example you have of using KPIs and a data-driven approach to managing a business?
What were the main challenges in aligning executive teams and other stakeholders behind a shared understanding of KPIs?
What are the top KPIs you'd implement and measure for the following departments: Product Development, Marketing, Sales, Customer Success?
In your previous financial leadership positions, what organization grew fastest and how much did it grow during your time there?
Walk me through a time when you received push back from sales from a sales forecast and/or sales hiring perspective. How did you overcome it?
Give me an example of where marketing wasn't producing the numbers required to hit projections and how you handled it?
How have you used SaaS KPIs to guide customer success to improve retention?
What was the hardest board meeting you've been in (and why) and your role in successfully navigating it?
What to Look For in CFO Answers for SaaS Leadership
Clear focus on data-driven decisions and the importance of the CFO role in bringing these to the table and ensuring SaaS metrics are part of every strategic and tactical decision.
Championing of KPIs and using them to add context and align executives and other stakeholders.
Data-driven leadership cascades down into the business through department-focused KPIs.
Ties financial decision-making into a clear track record of growth.
Use of KPIs and business intelligence to initiate changes and challenge misperceptions.
Other Considerations When Hiring for a SaaS CFO Position
Of course, there's much more to the CFO hiring process than the interview questions you ask.
SaaS CFO Candidate Shortlisting
You can use some of the following criteria when you're building your CFO interview shortlist:
Candidates that are qualified CPAs or have an MBA qualification.
B2B vs. B2C experience and how that aligns with your product offering and customer base.
Senior-level financial expertise managing other firms backed with private equity or venture capital.
A track record of leading debt and equity capital raises—and ideally, acquisitions and exits.
Leading growth through every stage of SaaS revenue.
Leading growth through departmental alignment and accountability.
Stakeholders in the SaaS CFO Hiring Process
The CFO role touches every part of your business. It's vital that key leadership and decision-makers all take part in the CFO hiring process. At a minimum, this includes the CEO, chair of the board finance committee, and the heads of sales, marketing, product, and customer success. For each member of the hiring team, the successful candidate should advance their thinking and change the way they think about the business.
Hiring an Individual CFO FTE vs. Outsourcing Your SaaS CFO Services
When you're hiring for a CFO position, it's a great idea to consider outsourced and fractional CFO services. Some will even specialize in SaaS CFO services and use a team-led approach to provide a wealth of expertise, insight, and experience that scales as you grow. They will also bring skills and subject matter expertise outside of what one individual can provide.
We Have the Expertise and Experience to Help
Hiring a CFO is challenging, but the wrong decision can have serious consequences. As a leading provider of outsourced CFO services, we know it's about much more than filling a role. It's about identifying a tailored solution that aligns with your needs today and scales to help your SaaS business successfully navigate every aspect of finance and accounting on its way to a successful exit.
Now that you've got the essential SaaS CFO interview questions, why not put us to the test? Schedule your introduction to Driven Insights, get a free, custom proposal, and ask about our unique team-led approach to growing SaaS businesses just like yours.