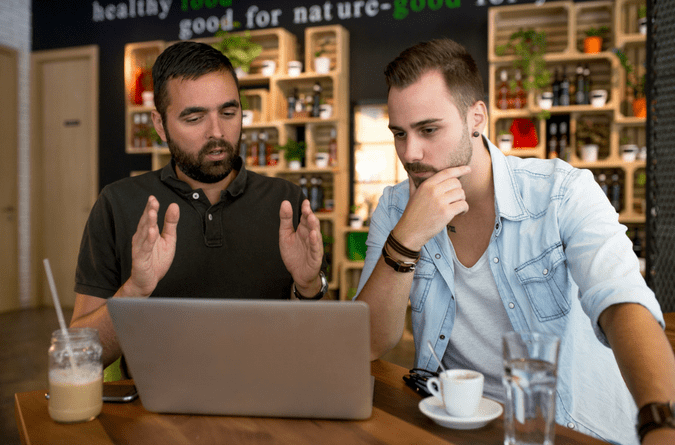 Before selecting an outsourced CFO service, companies must weigh the pros and cons. How long does it take for the business to get a positive ROI? How big does the company need to be to experience all the great benefits that a contract CFO service will provide?
We've found that small businesses need to grow to a certain size before they are satisfied with the return they receive from ongoing CFO insights.
We'll cover that minimum size below, as well as an average maximum size, but there are exceptions to the rule which can influence the outcome. So don't just look at the numbers and rule yourself in our out.
Even if you're in the size range of companies which often benefit from outsourced CFO services, you have to be ready and willing to invest in the resources which will allow a CFO to deliver real value to your organization.
Companies That Contract CFO Services Typically See $500K to $50MM in Annual Revenue
As mentioned, businesses must have an existing revenue stream in place. By analyzing existing revenue streams, the CFO advisor has the directional insight needed to deliver a positive and ongoing return.
If you're a running a startup or are sole proprietor with little to no existing revenue, you may benefit from CFO consulting services on a one-time basis, but you probably don't want to plan on contracting CFO services for a long-term relationship just yet.
Generally speaking, $1MM in annual revenue is a minimum threshold for contract CFO services, but there are a few $500K businesses which benefit as well. The common factor for those $500K companies is that they're hungry to get and use financial insights.
The type of business is also sometimes a factor in how much need exists for C-level financial insights.
A SaaS company in the $750K revenue range could have some very sophisticated needs. This type of company needs to nail the unit economics to ensure the business model is sound. A bookkeeper and even some CFOs would be completely lost figuring out which financial metrics a SaaS company should be tracking. An experienced SaaS CFO service provider knows how to measure these metrics efficiently and how to interpret them to move the business forward.
A $500K professional services company with specific needs can also be a candidate. This company might be:
Looking into acquisitions
Opening a second location
Completing a buyout of a former owner
Taking a hard look at customer/offering profitability to identify the ideal customer profile
Experimenting with variable compensation programs with employees
On the upper end, your company will typically want to consider moving from contract CFO services to an full-time CFO at around $50MM in annual revenue. As we mentioned earlier, a SaaS business generally has more sophisticated needs. That level of sophistication means the business may need a CFO service at less than $1MM in annual revenue and may graduate to full-time at less than $50MM. A SaaS company may need contract CFO services at $500K and could turn hire a full-time CFO at around $35MM, perhaps earlier.
How Old Should a Company Be to Contract CFO Services?
There is no strict rule for how old a business should be to contract CFO services. A new venture could benefit from a one-time engagement with a CFO by defining the business model (e.g., pricing) and budgeting/projections up front.
So, a business of any age could use some financial guidance. The question is, when do they need ongoing services? Speaking generally, when your company has enough transaction volume to warrant a part-time bookkeeper, you should consider a retainer for CFO services.
That being said, we've also advised start-up founders that they should do the books themselves for a while (a few months to a couple of years even) because it forces them to work with the numbers and develop a sense for the financial rhythms of the business.
Keep in mind that some contract CFO providers don't do project work, so they may not be an option, even for a one-time engagement. These firms need to see a certain volume of transactions/critical mass of accounting activity before they entertain a mutually beneficial arrangement.
Triggers Which Often Prompt Contract CFO Services
Now that we've covered some general guidelines for business size and age, let's take a look at some of the triggers which often prompt a small business owner to begin thinking about contract CFO services.
Accountability
Reporting
Tired of making decisions in the dark.
Unsure what metrics to watch or how to measure them.
Financials are inaccurate, slow to be produced or not useful.
Lack confidence in accuracy of reports.
Bank and/or board are demanding better, more current reporting. For more on this topic, see our

Board Meeting Packet.
Have a gut feel on where opportunities for improvement lie, but need to validate it with data.
Fundraising
Struggling to raise capital. You need to dial in your financial story but aren't sure how.
Management
Asking the right questions of the wrong resource (current team can't produce data to answer questions).
Tired of headaches that come with attracting, retaining and/or managing finance personnel.
Can't afford the distraction of involvement in the day-to-day finance function.
Desperate to refocus your time in areas other than finance.
Want to maximize dividends to yourself (owner) while balancing the reinvestment required to drive growth.
"Had it" with the lack of fundamental systems and controls to enable timely invoicing and faster collections.
Taxes
Always late in filing taxes because it's such an enormous task to clean up finances from last year.
Strategy
Need to develop or refine your pricing or business model
Here is a how a CFO might help:
Helping determining which metrics to watch and how to measure those KPIs.
Strategic (financial) planning, developing a roadmap for growth, building value the market will reward.
Gauging financial and operating performance, prioritizing when, where, and how to drive those changes
Navigating (or - ideally - preventing) a cash crunch or providing general cash management and planning assistance.
Developing and refining a soup-to-nuts accounting systems.
Interpreting financials and coaching CEO on understanding and using them.
Thinking through how to capitalize (e.g., debt, equity, cash flow), what makes sense based on the current circumstances, and how to a build financial story for stakeholders.
Projections or budgeting.
Help with board, investors, bank (or other stakeholder) reporting and communications.
Why Contracting for a Finance Team May be a Better Option Than CFO-Only
Contract CFO services offer a lot of value for the right company, but some CFO providers don't offer that service a la carte. Even if, to this point, you've only considered outsourcing the CFO role, give these full-service companies a look.
By bundling their CFO service with bookkeeping and controller services, these outsourced finance teams provide value which you may not have considered:
Cost: Paying for a CFO service a la carte costs more (when you factor in cost of bookkeeper and controller as well) than an integrated, full suite of services. Each time the CFO engages (e.g., on a weekly, monthly, or quarterly basis) he/she needs to screen for errors, and possibly generate and reformat reports. That can be an expensive allocation of time which is eliminated with the integrated model.
Efficiency: An a la carte CFO doesn't manage the finance team or the accounting process. With an integrated team,

everything

about the entire accounting system has been designed by the CFO who oversees it all. As a result, the system has been designed to tee up exactly what insights the CFO needs when needed by much lower cost resources. You only pay for truly value-added time.
Additional benefits:

With an integrated finance team, quality of insights may be better. The integrated team members all pull in the same direction and have the same mindset, so insights come from every level. Insights are delivered when you need them. For the reasons stated above, you can grab insights and go. Communication is improved. The integrated team uses the same terminology, and there is a clear segregation of duties, so balls are less likely to be dropped. Friction is avoided. With an outsourced finance team, you don't see tension when the bookkeeper and controller don't get along with the a la carte CFO. A la carte CFO's often don't know the debit and credit detail and can't guide the bookkeeper to get the accounting plumbing to work to produce the reports they want.
If you're looking to gain more financial insights, a great place to start is with our executive growth reports.