Working remote, but not working alone
For many companies, the recent pandemic forced leadership to quickly adapt to a "new normal" of remote work. Today, with over a year of varying degrees of quarantine, and vaccines reaching a critical mass, many of these companies are wondering if it's time to go back to the office. The employee base is largely making it known that they are just fine keeping things as is. A recent survey by Harvard Business School found "81% of people who have been working from home through the COVID-19 pandemic either don't want to go back or prefer a hybrid schedule."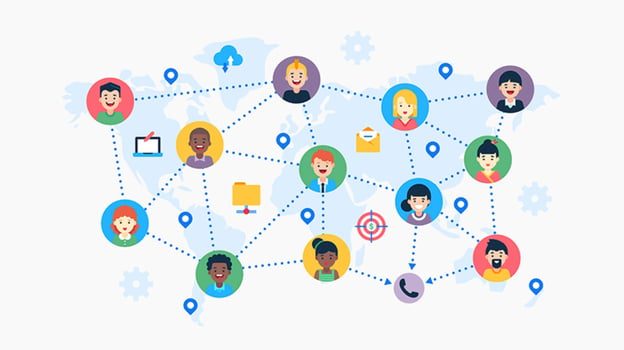 In this new post-pandemic chapter, you may find yourself faced with the decision of going back to an office setting or seeking a new opportunity that gives you the remote-work flexibility you've come to enjoy. If you are considering a change, we'd like to talk to you. At Driven Insights we are a 100% remote workforce, so the pandemic was never a phase for us, it's who we are. And, since we've been doing near-exclusive remote work for close to a decade, we know a thing or two about how to build a great culture, engage our employees, and enjoy a true sense of team – even though we have geographic differences. Driven Insights accountant Haley Lawson says, "The company culture at Driven Insights is incredible and unmatched. The team is full of fun, caring and incredibly intelligent individuals who want to help you grow and learn. We work remotely, but never feel alone because the team is always there to help."

If the idea working remote, but not working alone appeals to you, read on…….
We excel at the crossroads of teamwork and individuality
Our team is comprised of world-class accountants, analysts, controllers, finance experts and CFOs. One of the things our team members like the most about Driven Insights is that we encourage every person to think, listen, and leverage data and their intuitions for the betterment of the clients we serve. Our clients take our advice to heart and it makes their businesses stronger. Part of the reason they listen to us is that we hire great people. Another is because of the systems we've developed to produce and deliver world-class insights. Andrew Cordes, Senior Manager, Accounting and FP&A puts it this way, "The knowledge that what I do means much more to our clients than just checking off a box that their books have been updated makes me feel like a true partner with our clients."

Our team members are all tooled with cutting edge technology and ground-breaking financial analysis techniques. Each is entrusted to own critical components of our clients' financial operations and expected to advance each client's thinking about their business with timely, ongoing, and game-changing insights. All are privileged with our work-from-home model that affords freedom and flexibility, and a team-based delivery model that allows us to lean on each other for success, all while being a distributed workforce.

Our approach strengthens the team experience by driving meaningful personal and professional growth. The team gains fulfillment through the relationships we build with each another and our clients, coupled with the impact we have on our clients.
How we do teams at Driven Insights: geographically distributed. closely connected.
Driven Insight employees can be found in every corner of the contiguous United States, yet we are a tight-knit team. Management at Driven Insights strives to build an environment and create venues to foster deeper relationships with our clients and with each other. So much of life is about experiences and relationships, and the people we work with offer some of the most important of each of these.

We gather via video conference each day to take a moment to check in with each other, support each other, and learn from each other. It's an "I've got your back" kind of culture where management trusts you do your best and help others be successful at the same time. We trust each other and hold ourselves accountable to follow through on the promises we make.

We take our work seriously but try not to take ourselves too seriously. By intentionally uncovering shared interests among team member, we extend our sense of community. By looking to others' interests we expand our own skill sets and abilities. By doing this together, we continuously foster an environment that is both engaging and personally fulfilling.

Carrying these kinds positive outlooks into each touchpoint we have together is a deliberate decision, and it's the most important part of being the best version of ourselves.

And we do still take time to get together IRL too. We don't just do virtual happy hours (we do those, of course), we also get together in person once a year, which also helps us find creative ways to connect virtually. We've gotten together to go curling (first time for all of us)… it-was-awesome. We've had a virtual concert with a cover band. We've welcomed a world renown inventor to engage and inspire the internal innovator each of us. And much more!
Making sure it's a fit – to whom much is given, much is expected
It's the people we work with that make our culture great. These are the characteristics of the people we hire:
Honest, always-

Uncover the truth through questions. Trust and integrity in numbers, above all.

Positive energizer-

By remaining positive, through thick and thin, we will inspire one another and pull each other up from life's challenges, stretching each of us to be the best version of ourselves.

Humble, professional carriage-

At Driven Insights, we have no time for jerks (no matter how bright they may be). How we carry ourselves impacts everyone around us.

Creative, innovative-

Game changing insights come from thinking about the world differently and more creatively than our clients' competition. That's why we harness new technologies, trends, and information as opportunities, not threats.

Results focused-

Clarity of desired outcomes with the follow-through to get there

Gritty, resilient, adaptable-

This is where we get the "driven" in our name. Life, like business, is never a straight line. It's not the easy things you remember, it's the challenges you meet that make the biggest impressions.

Accountable-

Do what you say you are going to do and do it when you say you will.

Coachable-

If you work with us, be prepared to learn (and teach) from all directions – clients, peers, vendors - anyone. By being challenged, we continuously grow and improve.

Enhance the team and client experience-

Proactively seek and pursue ways to contribute to the Driven Insights experience.
Ready to take the next step?
Should you choose to join Driven Insights, you will learn our proprietary process that has resulted in a team of employees who love "where" they work, and love the work they do. If you're ready to take the next step, check out how to search for opportunities and connect with us here. You'll also find more information about who we are and what we do, as well as learn about how our interview process works.

It's much easier to support a high-performing remote culture if everyone on the team understands the company's vision, mission, and values. Thanks for letting us introduce ours to you.