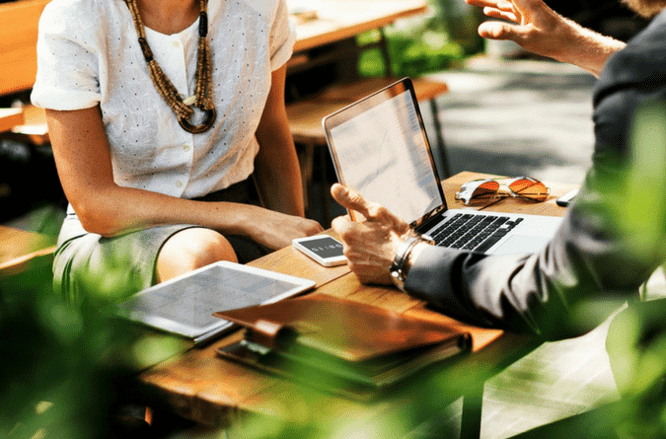 Are you considering CFO professional services? It's a fantastic option for some small businesses and nonprofits, but don't make the mistake of thinking every CFO services company is a good match for you.
If you pick the wrong CFO, you could be, at best, wasting a lot of time and money. At worst, you could be leading your organization into a setback it may be difficult or impossible to recover from.
The right CFO professional service will help you see your business in a whole new way. You'll learn where you're performing well, where you might be hemorrhaging cash, and where your best opportunities are to impact the bottom line.
So how do you distinguish between the right and wrong fit?
Though you are not going through the hassle of hiring, training, and managing an internal employee to deliver CFO insights, take a little time to consider which provider will fit best with your company.
You want to find a provider who offers the right services, has experience in your industry, can speak to you in a way that makes sense, mitigates risk, and will work well with the other stakeholders involved.
Let's dive a little deeper on each of those points to help you begin to narrow down the list of potential candidates.
5 Crucial Questions To Ask About CFO Professional Services
1. Do you only offer CFO pro services?
Some outsourced CFO service providers engage at the bookkeeper, controller, and fractional CFO levels. CFO services can't be isolated in this case. These companies act more like an outsourced finance department.
Here are a couple of indications that you may need more than CFO services.
Your CFO will have to spend time on tasks other than higher level thinking. This is a more common problem than you might think. A recent Deloitte survey revealed that

CFOs are putting in 12-15 hour days. This person shouldn't be fixing errors or making reports presentable every month. If you don't have a bookkeeper or controller or if those employees don't have enough hours allotted to complete their tasks, you need to consider a more integrated solution to fill or supplement these lower-level roles.
You are not confident that your current bookkeeper/controller can run with the process changes the CFO suggests - changes like changing the chart of accounts, designing reports, and integrating General Ledger software with another program.
2. How have you helped companies in my industry or situation in the last year?
Some CFO professional service providers employ specialists from an academic field or from mid-sized or larger companies. While these specialists may know the theories, there's no substitute for actual small business experience.
A street-smart CFO is able to distinguish between what's practical in the real world of small business and what just sounds good on paper. The academic or big business resource hasn't been held accountable to the reality of small business implementation, the actual impact of theories on the bottom line, or had to navigate the competing priorities within an organization with limited resources.
Business experience, such as Operations Management or working through mergers and acquisitions, helps the CFO identify what metrics are most important and how an owner likes to consume metrics/KPIs.
In addition to the CFO's academic and real-world experience, ask questions pertaining to your particular situation. Each industry has its own quirks and someone with an intimate knowledge of your niche can save you a lot of headaches, time, and money by anticipating trends and helping you develop strategies in response to those trends.
3. Can you show examples of customized reports?
Some CFO professional service providers know one business vertical and can speak to one type of personality really well. But that may not be your business and personality. A first-rate CFO provider knows their craft well enough to adjust to various types of businesses and can customize reports based on the type of info which you process effectively.
The provider might find that a tabular representation of data doesn't speak to someone and they need to move to a graphical representation.
An astute CFO can also help identify the right metric/KPI to bring to life what an owner should be monitoring to navigate their current challenges, opportunities, or goals.
The proven ability to find the right data and present it in a way that you understand should be required skills for your potential service provider.
4. What happens if my virtual CFO leaves?
One of the reasons you should consider outsourced CFO services is because you can get the experience and expertise of a team of professionals instead of an individual. But if your service provider assigns you one person who is the only human on the planet who knows your business and that human finds other employment, you're in a bind.
A competent CFO pro service provider will ensure that everything is documented well and that their team is cross-trained to cover when the unexpected happens.
Ask your prospective company to tell you exactly how that documentation and cross-training happens.
One of the jobs of a CFO is to identify opportunities for risk mitigation. If the company isn't doing this with their own business, look elsewhere.
5. Can you tell me what kinds of reports boards and investors will want to see?
Chances are your board of directors and/or investors will need to communicate with your virtual CFO at some level. Those parties may even be apprehensive about outsourcing CFO services. Make sure your provider is skilled at understanding the perspectives of these team members and communicating what information they need to see.
Boards and investors will want to see projections with a balance sheet and cash flow (not just P&L) that are all tied together. You'll want to provide a base case and downside/upside scenarios, highlighting key assumptions between those scenarios.
Don't go into a board meeting without monthly actual performance compared to the budget report (example below). This report needs to be a detailed, unemotional, data-driven breakdown of factors that contributed to missing a target, as well as a proposed specific action plan to get back on track.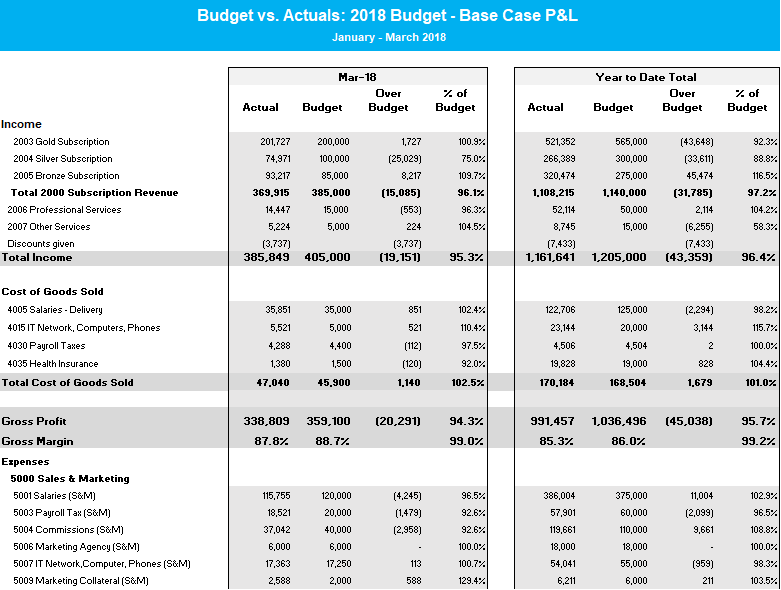 The Takeaway: Ask Hard Questions
As you can see, contracting for CFO professional services isn't as simple as finding the provider with the most credentials at the lowest cost.
Don't just ask yes or no questions. Ask for examples. Listen for real-life stories.
Hiring outside CFO Professional Services is like hiring a key internal employee, but one that requires no training or management. As such, they need to demonstrate outstanding expertise in order to be trusted for this critical role.
Don't shy away from asking questions about cultural fit or core values. Run a background check and do an offsite interview to get to know the person you'll be working with. Read testimonials and case studies looking for the kinds of benefits you want your outsourced CFO to provide.
This will help you find a fit for not only the service you need, but for the human you can trust and build a relationship with over time.
SEE THE GROWTH REPORTS CFO PROS CAN PROVIDE
Let us show you the financial reports that prepare CEOs for decisive action.
Our executive growth kit is a sample of each of the reports that we use for helping organizations in each stage of growth. Your ability to make the right decisions in the right sequence is limited only by the quality of your financial insights. We equip CEOs to win.