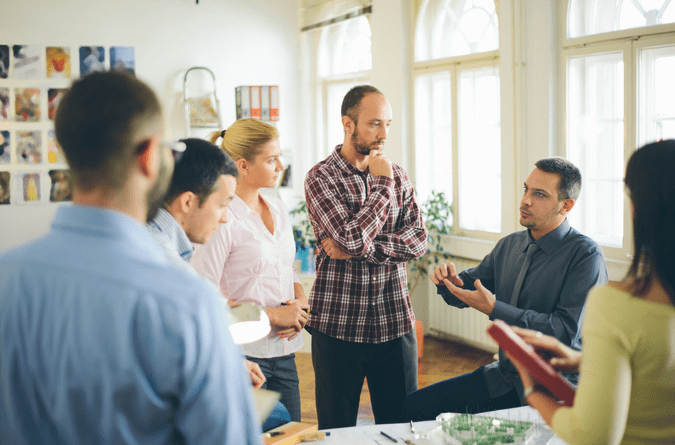 What's the average Chief Financial Officer (CFO) salary in the United States in 2023? Well, that depends on the size of your business and whether your business is located in Keya Paha, Nebraska (lowest salary) or San Francisco, California (highest salary) and what CFO professional services you require.
We'll give some specific numbers below, but first, we want to provide some advice on a topic which may play into how much you pay a CFO.
Whether you bring in a full or part-time CFO, try to find someone with an understanding of your industry and growth stage as a company. Each industry has its quirks. Someone with an intimate knowledge of your niche can save you a lot of headaches, time, and money by anticipating trends and helping you develop strategies in response to those trends.
If your company is in one of the early phases like finding product/market fit, look for a virtual CFO with experience in that phase rather than someone who has worked in larger, mature corporations.
If you have to go with someone outside of your industry or current growth phase, adjust your pay rate accordingly. In other words, if the CFO is going to have to learn on the job, this person won't be quite as valuable as someone with extensive experience relative to your industry and growth stage.
The Average private company CFO Salary in 2022
According to CFO.com, the average cash compensation for a CFO in a private company with less than $20MM in annual revenue is $194,354. CFOs for private companies with $21-$99MM in annual revenue make an average of $237,983 in base salary. (Private company CFOs make 45% less than those at public companies.) Tack on benefits and bonus and you can expect to pay $225,000 to $275,000 depending on business size.
THE AVERAGE Public COMPANY CFO SALARY IN 2022
As a point of reference, it may be helpful to know what larger, public companies pay CFOs.
According to Salary.com the median base salary for a CFO in the United States is $362,030, and the median total compensation package (including bonus, healthcare, and retirement) is $506,386.
The salary range varies widely depending on location. For instance, a CFO in Keya Paha, Nebraska, near the South Dakota border, will expect the lowest salary in the country at $284,250 and a compensation package totaling $354,259. An average CFO in San Francisco, however, will ask for nearly double that salary at $451,070 and total compensation of $724,006.
As a frame of reference, that median base CFO salary in the US of $362,030 would be $174/hour.
What about pay increases?
What kind of pay increases will a CFO expect from year to year? The Society for Human Resource Management reported in January that:
In the United States, an average 3 percent pay increase is predicted by Korn Ferry, the same as for 2017. Adjusted for the expected 2 percent inflation rate in 2018, however, the real wage increase is 1 percent—down from last year's 1.9 percent.
SHRM also reported that annual pay increases are the same for officers and executives as other salaried employees.
private COMPANY Finance team member SALARies IN 2022
According to PayScale.com, the median compensation package for a small business controller is $80,296. The complete range of salaries varies from $50,500 to $133,400 with influencing factors including company size and location.
Also from PayScale.com, the median compensation package for a small business bookkeeper is $40,838 with a range of $25,102 - $54,434.
How long will the recruiting process for a CFO take?
A 2015 survey by Jobvite indicates that while average jobs are filled in 43 days, it takes an average of 71 days to fill a C-level position and 76 days for a position with "director" or "vice president" in the title.
Many companies take their time with the recruiting process and opt for an interim CFO service so that they are not rushed into a bad decision.
What size companies bring in full-time CFOs?
There are obviously several variables which play into the size of businesses who have full-time CFOs, but we often see that companies start looking for an full-time CFO when they reach $35-50MM in annual revenue.
Companies in the $500K to $50MM annual revenue range often opt for virtual or part-time CFO services. These outsourced CFO services are often available at a fraction of the cost of a full-time CFO.
At Driven Insights, we provide remote CFO services for a number of companies in a wide range of markets. Our CFO-led services include controller and bookkeeping as well so that you can outsource your entire finance department to keep things running efficiently and often at a much lower cost than an in-house team.
You can see how those services are structured in the graphic below.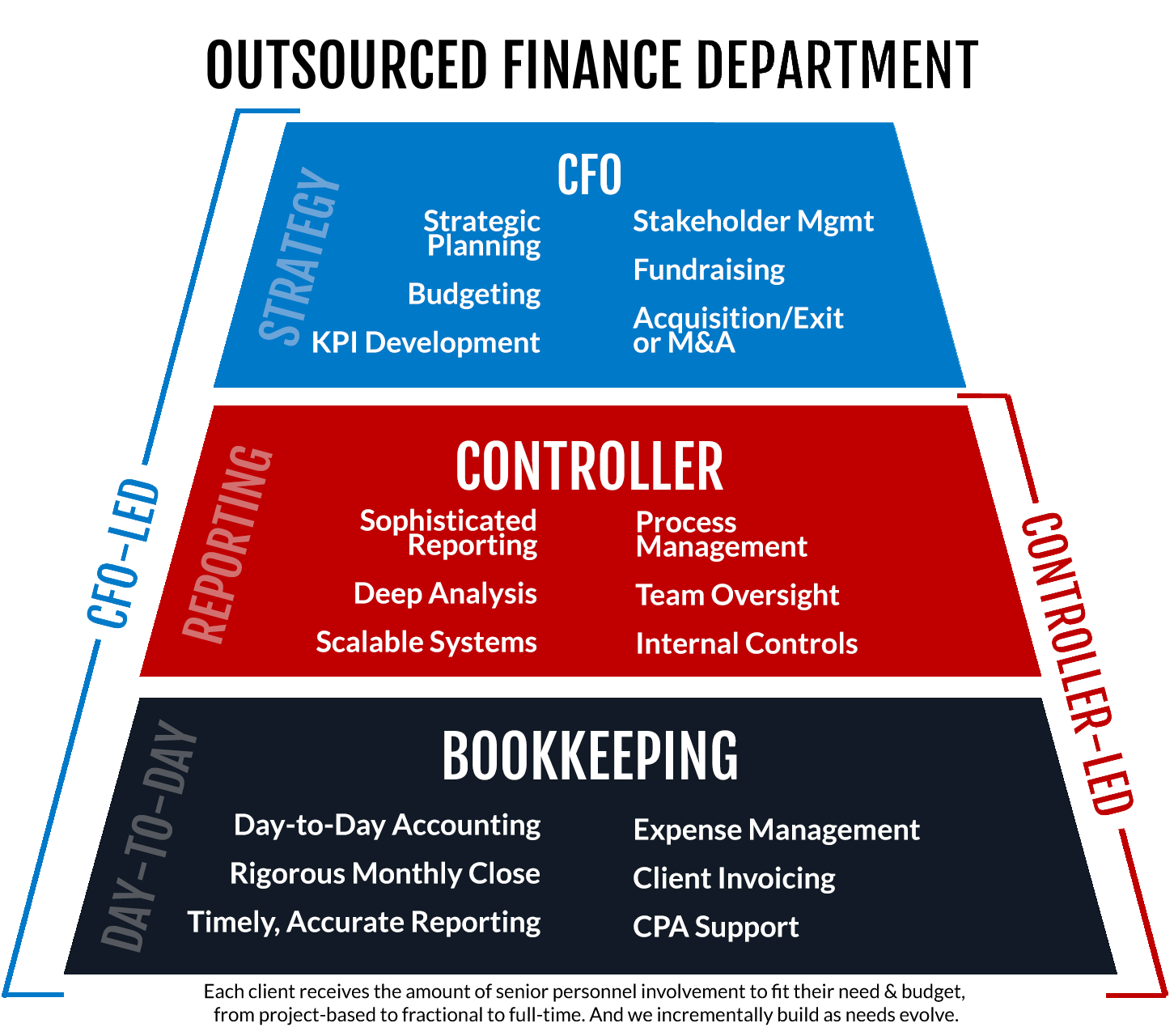 Learn more about our outsourced CFO services.
BONUS: 27 CFO interview questions
As you begin your search to fill the CFO role, whether part-time or full, there are a few things to consider as you find the right fit for your company. We've talked to a lot of small business owners and CFO candidates, and we've documented 27 questions to help you pinpoint the best partner.
RESEARCH
1. What do you find most interesting about financial management in the industry we're in? How about the most challenging?
2. Given our current size and growth plans, what are the key challenges and opportunities we'll face in the next six months? How about the next two years?
REPORTING
3. Given our objectives, please walk me through the reporting package you would design and highlight how the insights it produces will inform the decisions required to hit these goals. What are the three most important KPIs you'd be watching and why? NOTE: Download our free Executive Growth Reports now to see what a top-rate reporting package looks like.
4. Please bring a relevant reporting package you've used to our next interview (redact sensitive info) and be prepared to walk us through what's relevant to our needs and why.
5. What is your current target monthly close date? How has that date changed over the past two years?
6. How does your current company measure against the most critical competitive benchmarks?
7. Tell me the sales pipeline math you use to support your firm's revenue projections.
8. What are the key attributes of a successful budgeting process?
STRATEGY
9. What are the key customer segments your current company sells to? How do margins and growth vary by segment? How have those evolved and what are the key drivers
10. Walk me through how you would perform a gap analysis of our accounting process and controls and what you'd expect to see.
11. Explain the evolution of the product and pricing strategy of your current/previous company. Give me an example of a landmark decision that was made in the product strategy, what data informed that decision and your opinion of that decision.
12. What is the most challenging part of budgeting for you?
13. Do you consider yourself a "strategic CFO" and what examples in your career lead you to that definition?
14. Who owns and drives the business model in your company? What's your role in evolving it? How has your finance function influenced it?
EXPERIENCE
15. What are three ways in which your current CEO would say you've been indispensable? How about your board?
16. Provide me with two examples of how you've filled the role of controller and even bookkeeper in the past six to 12 months.
17. Give me examples of successful and unsuccessful equity and debt fundraising efforts you've experienced.
18. Tell me a story about how you've successfully managed through a cash crisis? What levers did you pull to navigate the shortfall? What reporting allowed you to select those levers?
19. Provide me with an example of an acquisition you've been an integral part of? A sale or divestment? If you had an opportunity for a do-over, what would you change in each?
20. Tell me about your experience overseeing legal? HR? IT?
21. What is the toughest finance initiative you have worked on such as cash management, fundraising, cost containment, budgeting, cost allocation, or bankruptcy?

22. In your experience, what was the key to ensuring your company was compliant with all laws, regulations, and standards that applied to your area of responsibility?
23. How would you describe your strengths in the following areas: accounting, FP&A, stakeholder management, M&A and international? Tell me about your weaknesses in each.

24. How have you improved the accounts receivable cycle at your company? What are DSO - days sales outstanding? How do you handle collections? Have they ever been an issue? Why?
25. How have you influenced the purchasing process? What was the quantifiable impact of your influence?
26. What accounting software, business intelligence, or reporting systems packages do you have first-hand experience with? What is your preferred package? What do you think of ours? Will it support our growth plans?
27. Have you simplified a financial process within an organization? If so, explain.
Wondering how to navigate the process of finding the right CFO service for your business? If so, read the comprehensive Outsourced CFO Buyer's Guide.
Download Our Free Growth Report
As we mentioned in Question 3, one great way to evaluate the competence of a CFO prospect is to ask what a superb reporting package looks like. Download our free Executive Growth Reports now to see what winning CEOs and CFOs use to track the metrics which matter most.